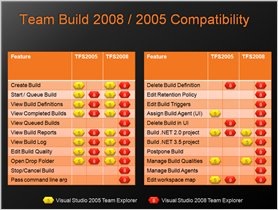 Last night I had the pleasure of presenting to my local .NET User Group (NIMTUG) on what is new in Team Foundation Server 2008. Interestingly, most of the audience where new to TFS completely so I also covered a bit of ground on what Team Foundation Server did and why - however most of the talk concentrated on the Team Build stuff new in TFS 2008 and I ran through the wallboard demo that I wrote for TechEd.
In you are interested, the slides are here:-
and the demo code is available here.
Thanks to everyone that turned out for the talk - it was very well attended despite the weather. During the session, I offered a couple of drinks to anyone who would be photographed with a Team System temporary tattoo on their head, sadly no-one took me up on the offer ;-)