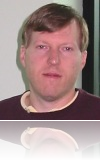 The Virtual Team System User Group is great for people like me that live somewhat removed from a major population centre. In fact, as I look out my window I can't even see the sheep that usually live outside. That's one of the reasons why I love the Virtual Team System User Group as it allows me to meet up with people just like I would do at a normal user group session – without the risk of catching a cold or consuming cold pizza.  The only problem with the user group so far is that it has been meeting in the evenings US time – which is in the middle of the night for me.
Well, fellow MVP Thomas Schissler has come to the rescue and is organizing a bunch of Virtual User Group meetings at European friendly times. He's got off to a great start by getting the father of TFS, Brian Harry, to speak on April 16th.
Keynote: Visual Studio Team System Adoption at Microsoft with Brian Harry
Meeting Date: Thursday, April 16, 2009
Time: 18:00 UTC (11:00AM PDT) 
Location:  Microsoft Island in Second Life / LiveMeeting
For those of you who don't know Brian, Brian Harry is a Microsoft Technical Fellow and serves as the Product Unit Manager for Team Foundation Server. In 1996 Brian and a few others began working on the problem of improving the approachability of our API for the developer masses.  Although this started as investigating ways to extend COM it eventually grew into what we now know of as a little thing called the .NET Framework. For a couple of years, Brian was the Development manager for the Common Language Runtime and then served as the Product Unit Manager through the rest of the V1 and most of the V1.1 product cycle.  In 2002 Brian opened a remote development center in North Carolina and formed the Team Foundation Server team.
Anyway – even if you are not in Europe, I'd encourage you to join me in attending this session.  I'll be hanging out later if anyone wants a chat (I'll be the one wearing a tux as I like to dress smart in a virtual setting).