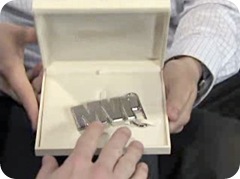 This week I have been in Seattle for the MVP Summit 2009. It has been a busy week chatting with the Team System team and catching up with all my friends from the MVP community around the world.
I have to admit that, without doubt, my proudest moment of the week (and also the first time I think I have blushed in a while) was when it was announced that I had won the first ever Team System MVP of the Year award.  I am deeply honoured particularly because it was the 100 or so other VSTS MVP's that made the decision.  As part of my "prize" I got a shiny belt buckle that I've been proudly showing off to anyone that will listen.  Dan Fernandez and Brian Keller were even kind enough to have me on their "This Week on Channel 9" show when I popped round to show off my award.
Take a look at the This Week on Channel 9 Episode, and don't forget to subscribe to the show. When they don't have me on it is usually a very entertaining 30 minute re-cap of the weeks events in the .NET world.