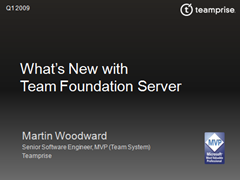 Tonight at NIMTUG I'm going to be giving a talk to get everyone up to speed with the latest developments in the Team Foundation Server world.  We are going to review what came along in 2008, talk about the new bits in Service Pack 1 and the latest power tools release.  We are then going to spend the second half of the talk looking into the future and playing with the latest CTP of Team Foundation Server 2010.
Slides for the session are available here:
Links to resources mentioned in the talk:
If you are in the area then please register and drop along to the Wellington Park Hotel at 19.30.  As usual I'll be hanging around in the bar afterwards if you want to catch up and have a chat.