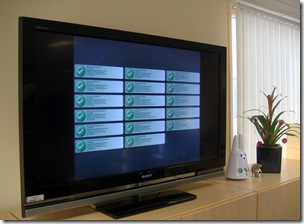 I recently stumbled across a handy Team Foundation Build screensaver created by Jim Liddell and wanted to share it as it seems very good.  For my team build talks I created a Team Build Wallboard as a code sample, however Jim has created his own as a WPF based screensaver and it looks very nice.
A few features that I particularly liked:
Deployed as a screen saver (.scr) with full configuration options via the screen saver properties
Ability to display multiple builds from multiple team projects
Nice, clean WPF based vector graphics
Multi-monitor support
The code is also pretty clean, and reminds a WPF novice like me how different a true WPF based programming model can be from WinForms.  The only issue I had with it is that I had to download the source code and recompile as x86 only against the TFS2008 API's to get it to run on my main dev machine which is a Vista x64 machine with VSTS2010 Beta 1 installed.
Anyway, the code is up on CodePlex under the permissive MS-PL license, so I would encourage you to give it a look and give Jim your feedback or even contribute back features that you would like to add. 
Notice in the picture above that Jim has a Build Bunny sat next to his Build Monitor as well - great to see them breeding like, well – you know…