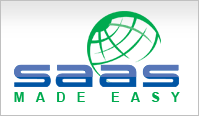 Fellow MVP Paul Hacker just dropped me a line to share a great offer his company is making available for BizSpark companies.  For companies that are in the BizSpark program you can get a hassle free, hosted Team Foundation Server service as a substantial discount (currently $10 per month, per user).
Microsoft BizSpark is a global program designed to help accelerate the success of entrepreneurs and early stage startups. In addition to a fabulous software offer, BizSpark also provides professional support from Microsoft technical experts and other resources.  BizSpark is open to privately held businesses in operation for less than 3 years with less than 1 million USD annual revenue.
The SaaS Made Easy offer makes it very simple and cost effective to have your team working in TFS from day one. Another advantage of it being a hosted service is that it makes it well suited to a geographically dispersed virtual team.
For more information on the offer, and links to the BizSpark program head over to the SaaS Made Easy web site.