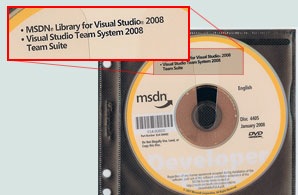 It's funny, in these days of digital distribution, but seeing some physical media for a software project you have been closely involved with still means a great deal. 
Today my January MSDN shipment arrived in the mail - and lo and behold in included a proper physical DVD for Visual Studio 2008 Team System Team Suite.  While it isn't as exciting as a full retail box - it still brought a smile to my face on a foggy morning (sad, I know).
Looks like the folks in the DVD plant have been busy over the holidays.  Congratulations to the Team, lovely to have a real DVD in my hand.