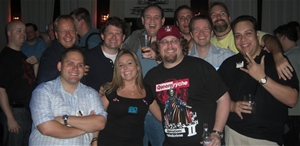 It's been a busy day today getting setup. Started over at the Teamprise Booth getting the stand backdrop and the various machines set up (without any exploding this time which is a bonus). Then headed back to the hotel for 5 minutes to drop off my TechEd bag with all the associated swag. If you are interested, the bag is better quality than last years, but the pen is not as good - a compromise that works for me. After dropping off the swag, I headed back into the conference center to attend the staff orientation, get the VSTS TLC machine set up with Orcas Beta 1 of Team Foundation Server finishing up at about 6pm - enough time to get changed for the TechEd Edition of Party with Palermo.
I enjoyed myself immensely - possibly a little too much judging by how I am feeling now. The Team System folks all ended up in a big group catching up on the gossip - and they are always a bad influence on me ;-)
Tomorrow (well today now I guess) is the big keynote and then I'll be hanging around the Teamprise booth during the exhibition hours. Drop by if you are around.