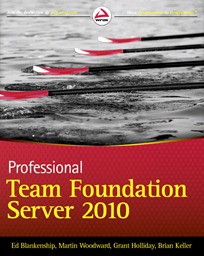 I've always wanted to write a technical book and when I started getting involved in Team Foundation Server I thought that this technology area might be my chance.  I was lucky enough to get involved with the Professional Application Lifecycle Management with Visual Studio 2010 book and contributed to the TFS chapters in that one – but I knew I had one more book in me.
Luckily, the ALM book was so popular that the publishers came back for more and so I was able to get involved in the book I've been wanting to write for the past 6 years.  Not only that, I got to work with Grant Holliday, Ed Blankenship and Brian Keller who are three of the people I regularly turn to for advice on TFS matters.  Having those guys on board made it hard when looking for technical reviewers but luckily Mickey Gousset and Steve St Jean agreed to help out and so the journey began in creating the TFS 2010 book which is now available on Amazon.com (both in paperback and Kindle versions) and available for pre-order on Amazon.co.uk.  As with the ALM book there is a DRM Free eBook available at the Wrox site if you prefer but I'll also expect electronic versions to be available in all the popular eBook stores in due time.  One neat thing about buying the electronic version of the TFS Book for devices that have a color screen is that in many versions the diagrams and screenshots are in color (which helped me when talking about Branch Visualization or the build reports :-) )
People have asked us what's the difference between the ALM book and the Pro TFS book.  The ALM book was deliberately written as an overview to the huge amount of functionality available in the entire Visual Studio Application Lifecycle Management suite.  Though there are a couple of chapters, the Team Build one in particular, that get pretty technical – the Pro ALM book tries to keep things approachable by everyone.
The Pro TFS 2010 book is a deep dive on TFS.  We tried to make it so that you can pick up the book having never used TFS before any by the end of it not only know how to use TFS but how to administer a complex TFS instance and even use it to study for the TFS Administration exam.  I've learnt something from every single chapter in the Pro TFS book, but I would also hope that someone new to TFS could pick up the book and learn just enough to get going then come back for more over time.
Anyway – while I've seen the PDF version of the book and enjoyed reading the chapters contributed by my co-authors, I'm looking forward to getting my physical copy soon from the publisher.  If you happen to get a copy then be sure to let me know what you think.  If you wanted to splash out and get the complete reference set then my personal recommendation would be to get the ALM book, the TFS Book and the excellent Inside the Microsoft Build Engine: Using MSBuild and Team Foundation Build (2nd Edition).
Hope you enjoy it anyway – I'm proud of this one so looking forward with nervousness to see what the reviews are when they start coming in.