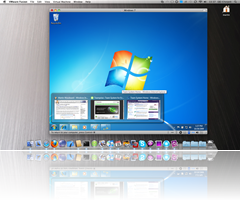 On Tuesday, VMware announced the latest in their product lines, VMware Fusion 3 and Workstation 7.  While I have been a fan of VMware Fusion on the Mac for a while – this latest version is fantastic.  As well as Snow Leopard fixes, there are lots of improvements in how "Mac-ish" the product feels. Best of all Aero is now fully supported inside a virtual machine.
I'm currently writing this post from my MacBook Pro running Snow Leopard running Windows 7 as a VM.  I have to say that running Windows 7 inside the virtual machine is actually a much better experience than I've been having running Windows 7 as the BootCamp partition lately.  This is largely due to driver issues, but also the muscle memory for my fingers when typing on my MacBook is to use Cmd+C and Cmd+V all the time when copy/pasting – and I forget to press Ctrl instead.  Luckily VMware keesp an eye out for this and just do the right thing.
All in all, it is a very good experience that I'd recommend to anyone that has to run multiple operating systems. Windows 7 works well in a VM where Vista used to struggle a little.  It also allows for my favorite Teamprise demo.  I set up the session so that I'm driving it from my MacBook Pro with VMware running full screen using Spaces to have it set to the right hand of the two spaces that I run.  I start the demo in Windows and then half way through use Ctrl+Left to instantly move to Mac OS and carry on the Teamprise demo from the completely different OS.  Really wakes people up after I've done my best to put them to sleep for 15 minutes.