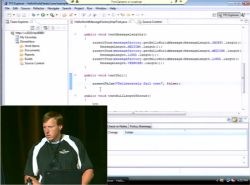 During Brian Harry's "Team Foundation Server 2010 Cool New Features" presentation at PDC, he demonstrated Teamprise working with TFS 2010 (codenamed "Rosario").  Not often you get one of the most senior technical people in Microsoft using Eclipse on stage at the premiere Microsoft conference!  Not only did Brian show some of the work we have been doing in talking with TFS 2010 but he also demonstrated the latest version of the Teamprise Build Extensions that make it very easy to run Ant based builds from Team Foundation Build, but also now publish the results of the JUnit tests into the TFS Data-warehouse for inclusion in reports etc.  Take a look at his session if you would like to see more - available from Channel 9.
As we progress along the road to Rosario and get closer to the TFS 2010 betas and the eventual ship date we will working hard to use of more and more of the Rosario functionality in our Teamprise clients.  As well as thanking Brian for taking the time during his packed session to talk about our integration, I'd also like to take this opportunity to thank the various TFS teams at Microsoft who have been incredibly helpful and supportive in all the discussions we have had with them about TFS 2010 over the past year (and more).  Now that the latest CTP is out, it is great to see what were specs and mock-ups until recently realised into bits that we can play with.  TFS 2010 is shaping up to be a great "V3" release from Microsoft and I am very excited about what the coming months will bring. 
Stay tuned - it's nice to be able to talk about some of this stuff now!