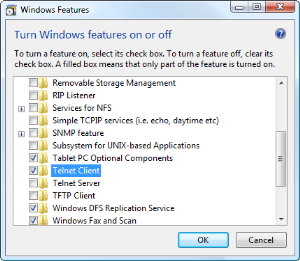 When debugging network issues, I tend to fallback to good old telnet as a way of opening a port to a machine. Being able to do "telnet myserver 80" to check if a web server is up, listening, resolvable and no firewalls getting in the way helps you figure out where the problem is.
I'm staying in a hotel at the moment, and struggling with hotel WiFi. While debugging the network problems I realized that the telnet client is not installed by default on Vista.
To install it, go to Control Panel, Programs, and then "Turn Windows Features on or off" under "Programs and Features". Scroll down a bit and then Telnet Client is available.